College Travelling, U.S. Edition, PART 3
Vacation time is a chance to do something different, get a new perspective, and clear the cobwebs out of one's head. Travel is a great way to accomplish this goal. Although the distances are a bit overwhelming, the end result is well worth it.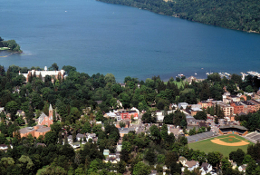 Cooperstown, NY

People who never go anywhere and certainly never visit museums actually drag themselves and their kids to Cooperstown. Sports fans, history buffs, rod and gun enthusiasts, railroaders, hikers, fishers, and devotees of the arts can all find something to enjoy.

The location is beautiful, and can be appreciated in Glimmerglass State Park. However, the big draw for many is the Baseball Hall of Fame and Doubleday Field. These are located in Cooperstown because native son Abner Doubleday claimed to have invented the game. There is actually a baseball wax museum as well.
About one and a half hours west of Albany, the town, sited on Otsego Lake, also features a fabulous museum of 19th and 18th century life, the Farmers Museum. Every piece of equipment that ever tilled the American earth or carried a duck hunter into the reeds is here on display.

The Fenimore Museum houses its collection of American art in a wonderful Georgian house. For fans of the vocal arts, the Glimmerglass Opera offers big-city quality at small-town prices, without the parking problems. There is a conscious effort to mount contemporary pieces, although they do the classic repertoire as well.

The lovely lake is accessible via The Glimmerglass Queen, a tour boat. Hyde Hall gives visitors an insight into life in an earlier century. History is also on display at the scenic railway. Cooperstown really hits a home run on all fronts.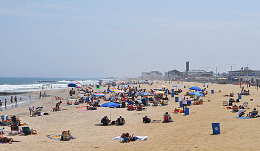 Asbury Park and Ocean Grove, NJ

Located in the northern quarter of Jersey's shore, the neighboring communities of Ocean Grove and Asbury Park represent two vastly different ways that beach towns could and did develop.

Both are worth visiting. In one, the history of fervent Protestantism in the USA is on view. In the other, Bruce Springsteen occasionally drops by. In both, the Atlantic beats ceaselessly on the sand. How can one lose?

Ocean Grove grew out of the camp meeting movement. These were gatherings that featured sermons, sermons, and more sermons, all encouraging people towards serious conversion. The beach property that is now Ocean Grove was purchased in 1869, and people came from New York and Philadelphia and points in between to listen, sing hymns, and revive their souls. The lively waves and golden sand did not hurt, of course.

As a reminder of that period, the Great Auditorium still stands, hosting everything from a bell choir, a children's singing group, an organ recital, and, of course, sermons. Nearby, families return year after year to erect tents on concrete pads, and furnish them with all the comforts of home. The Victorian homes are lovely "painted ladies", alcohol is discouraged, and the streets and beach are spic and span clean.
Next-door is Asbury Park, with quite a different history. The town had wonderful old public buildings that deteriorated after the 1970s. More recently, Convention Hall, the Casino, the Fifth Avenue Pavilion, and the Berkeley-Carteret Hotel are all being revitalized.
The Stone Pony, just off the beach, is the musical home of Bruce Springsteen. There is still a thriving music scene here, and the summertime Wave Gathering brings together nearly 200 acts in all genres. There are plans for a Music Hall of Fame here as well.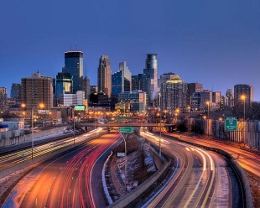 Minneapolis and Saint Paul

It is easy to get a lopsided view of Minnesota. Often, if one listens to the Prairie Home Companion, Garrison Keillor's program of self-deprecating humor and music from Minnesota Public Radio, one can develop the impression that Minnesotans are all laconic, suppressed, and narrow-minded. The Twin Cities are considerably more than that. These are both beautiful, clean, safe municipalities with enough culture to keep visitors fully occupied.

The strong Scandinavian element in the population just makes things interesting! The "City of Lakes" does indeed have many, and there are still more lakes in the whole region. This gives this community a distinct character. The urban parks have taken advantage of the numerous bodies of water very creatively, weaving walking and bicycle paths gracefully through them all.

While both cities are fully modern, there are some lovely old buildings, especially in St. Paul's older neighborhoods along the Mississippi. Yes, this quintessentially northern, snow-bound city is, indeed, on the Old Miss. It flows down the heart of the continent, becoming the lazy southern river it is more commonly considered as it goes.

Minneapolis has a symphony orchestra, a huge art museum, and the third largest theatre market in the USA, with a colorful array of venues and companies. This is a wonderful, comfortable place to visit and appreciate the best in American arts and recreation.
Coming up next week – vacation destinations in the UK! You don't want to miss that one!