How to Prepare for Exams at Night: Staying Awake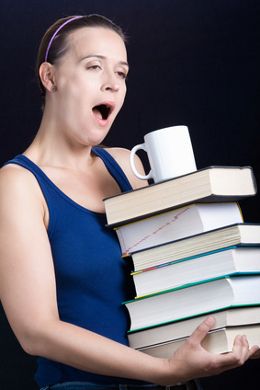 Even if you have been scrupulously nerdy about your studies thus far, exam time is a strain. Preparing in depth for multiple subjects, with concurrent deadlines for other assignments, all devour time. How can you stay alert to study and take your exams?

A key way to prepare for exams is SLEEP, as counter-intuitive as this sounds. Nonetheless, recent research suggests that sleep deprivation is as damaging to intellectual performance as getting really quite drunk. Would you show up for an exam with a serious buzz on? Ok, bad question! Well, would you do so if you had any sense? No, of course not.

And yet, many of us have taken exams just as impaired from lost sleep as if we had a blood alcohol level that lose us our driver's license, if we were caught behind a steering wheel. Why do we do this to ourselves?

Another bad question, no doubt. Well, from the first day of the semester, we should be trying to keeping this sort of sleep deficit to a minimum. Research suggests that to a very limited extent, you can bank sleep. In other words, if you have been getting good substantial sleep for weeks, one all-nighter of studying will do less damage to your brain function than if you have been pulling this stunt night after night since the first day of class.

The activities you engaged in during a late night also affect how damaging lost sleep is, as well. Indulging in substances that affect your central nervous system (you know what we mean), will more negatively affect your sleep.
This means that an all-nighter knocking back vodka shots, or the local poison of choice, hammers your cerebral cortex much harder (and for longer) than an all-nighter sipping spring water and taking notes on Aristotle (or, for that matter, dancing, away from tobacco smoke, and sipping spring water). So, sleep when you can in the weeks before exam prep time, and go easy on the hearty partying. How can you make the sleep you DO get count for the most it can?
You need the darkest sleep environment that you can manage. This is because light affects the hormones that determine your sleepiness and how restorative your sleep is, depending on the timing of exposure. The potential (very complex) reasons are under study by scientists. Just try to get the room as dark as possible – no TV, no computer screens, no closet lights, and as little light from the hallway as you can arrange (Ha!). Glasses sold claiming to reduce the impact of blue light on your brain; perhaps worth a whirl. Maintain good relations with your room-mate to ensure cooperation. Could green light suppress sleepiness-inducing melatonin productions? One article suggests so – you'll look zombie-like, but what else is new at exam time?
Quiet your racing thoughts to get to sleep promptly. Even in cancer cases, mindful breathing is being used to improve peaceful sleep. Instructions are all over, these days.
Complex carbohydrates encourage sleep, and some people find that the tryptophan content in turkey does so too.
Avoid caffeine, "energy drinks", and illegal drugs. The 1960s showed that studying under the influence, to be effective, demands taking the test under the exact same influence. Risky! Get sleep ahead of exams! We will look at more ways to stay awake for studying in upcoming articles, so stay tuned and check back in a couple of days.
Also like us on Facebook and follow us on Twitter to receive the latest college news!