How to Prepare for Exams at Night: Staying Awake, PART 2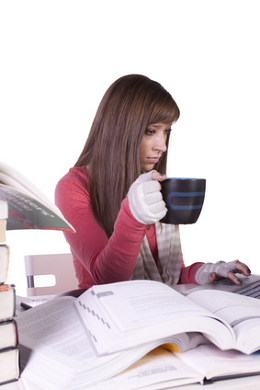 Exam time is hellacious. You need to be able to study hard, long, and effectively. How can you stay awake and keep your brain working, especially with several exams ahead of you?

In a previous article, we discussed the paradoxical fact that in order to be able to stay up, you need to have had some good sound sleep in the days leading up to your study sessions.

Here, we will discuss some other ways to keep your eyes open and your brain in gear during study time.

The effect of food on wakefulness is under constant study in mainstream and alternative medicine. We have known for over a decade that the cafeteria-style diet induces sleep (and, by the way, over-eating – how discouraging!).

The take-away lesson (no pun intended) is that when you are trying to feed yourself for a long night of studying, steer clear of the usual cafeteria mystery meat patties, white flour buns and pizza, and fried everything.

If this is the case, it might be best to stock up on alternatives in your dorm refrigerator. But what should you choose to put in your sleepy mouth and how?
Vegans swear by their approach to eating. This means avoiding foods with animal sources. Alternatively, those who shape their diet according to the alkaline- , or acid-forming, tendencies of specific foods recommend alkaline-forming items to boost energy. These foods largely include the fruits and vegetables.
Remember that eating vegetarian or vegan is not merely a matter of cutting meat from your diet. You need to substitute protein sources that provide complete combinations of the essential amino acids. This would, happily, include multifarious and delicious combinations of legumes and grains such as tofu (made from soy beans) and rice, Tempeh (compounded from rice and beans – slightly fermented), agar-agar, and avocados, tree nuts and legumes, and peanut butter and whole grain bread.
Simple sugars and all highly processed carbohydrates (white flour, for example), sadly, tend to provide a rapid and very seductive spike of energy followed inevitably by a crash.
Herbal medicine fans recommend traditionally used plant materials such as ginseng, gingko, and bee pollen, and the more exotic gutu kola, guarana, and maitake. Everyone agrees: heavy meals can make you sleepy. This is the Christmas dinner effect. Small amounts of (nutritious) food at any one time are a better idea.
Drink plenty of water. Apart from the fatigue and headache that often accompany dehydration, water forces awake intermittently, if you know what we mean. Additionally, dorms, libraries, and study lounges world-wide seem to be overheated and Sahara-dry. Foods containing brain nutrients include blueberries and ocean fish.
Chocolate contains caffeine and sugar, both short term stimulants, but also containing anti-oxidants (a good reward for sticking to it, if not over-used). Tyramine, an amino acid supposed to stimulate the brain, is in fermented, aged, and pickled items such as aged cheese, smoked meats/fish, fermented soy, and bacon/sausage. Zinc may help brain function.
We'll look at other wakeful tips in upcoming articles. Also like us on Facebook and follow us on Twitter to receive the latest college news!