Scholarship Opportunities: They're Everywhere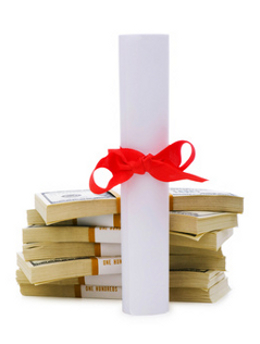 Financing college is an increasingly difficult proposition. Tuition and fees rise annually, while the economy stays in the doldrums. Furthermore, smart students know that only celebrities or geniuses can forego training and certification beyond high school.

Fortunately, the number of potential sources of funding has also increased.

We'll examine some of the more unusual scholarship granters in this and upcoming articles.

Researching these opportunities reveals that it pays to look to your own town, nation, religious affiliation, family history, and passions, first, to find targeted scholarship money.

You can qualify for a prize of 5,000 dollars by registering with and completing surveys with Ipsos I-Say.

Although not a traditional scholarship, this money is fungible, isn't it, and represents a nearly effortless way to try for a nice chunk of change.

Craving a swim with the sharks? Residents of the Maldives (440 miles south of Sri Lanka, for the geographically challenged among us) can compete for a ship-board training program in shark ecology and natural history. Scholarship recipients will learn to become Reef Checkers, acquiring an intimate knowledge of the coral reefs and their notochord residents. The course and scholarship are sponsored jointly by a wildlife conservation organization and a resort corporation.

The scholarship is intended to increase the number of local citizens who can help the government in preserving the incredible local ocean fauna. Biosphere Expeditions runs a variety of other programs with less restrictive residency qualification requirements, also with the potential for scholarships. These expeditions are all oriented towards an understanding of fragile species such as the snow leopard in the Altai Mountains of southern Siberia, and dolphins and turtles off the Honduran coast. Even if your college did not approve this for credit, such an experience would look fabulous on your CV/resume.

Can you knit? No, this is not a joke! Lucky you, if you have acquired this useful skill! A quirky wool and knitting company, headquartered out in Nevada, is offering a total of 18,000 dollars to six lucky and talented recipients. Called the Beans for Brains Scholarship Program, it requires that applicants send in a photograph of a knitted item from your original pattern. For you enthusiastic knitters out there, this is a custom-designed, bespoke opportunity to get free tuition money! The company reserves at least one scholarship for residents of the Reno Nevada area.
Do you feel a connection with the Holocaust? Perhaps a family member or a neighbour was affected in some way? Maybe you read The Diary of Anne Frank or saw Schindler's List? If you can write a winning essay on the assigned Holocaust-related topic, you can garner as much as 5k in tuition funding. The Holocaust Remembrance Project of the Holland and Knight Charitable Foundation sponsors this scholarship program as a living memorial.
This is a very modest investment of effort for money with few strings attached, and for a worthy goal. Winners get a trip to a major center of study of the Holocaust as well; Washington, DC, and Boston, for example.
If you have a good idea for an essay, but need some help with editing and polishing, you know that you can get professional help with such issues.
As you can see, your personal characteristics have a good chance of qualifying you for some sort of scholarship program, and others are entirely open. Check back next week for more great scholarship ideas!
Be sure to like us on Facebook and follow us on Twitter to receive the latest updates!