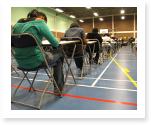 If English is not your native language, but you want to study in one of the North American institutions, you will have to take the TOEFL test. Probably, you have heard that TOEFL is one of the most complicated tests. However, we know that many students manage to pass it successfully and get high scores.

So, TOEFL is not easy to pass, and there is a stage that the great majority of students find the most difficult. What we mean are TOEFL test essays or the writing part of the test.

Still, you have to forget about your worries and panic, since you certainly need high scores on your TOEFL essay. The only way to get them is to practice a lot and learn from TOEFL model essays. On the official website www. ets .org, you can find sample essay topics for TOEFL. If you surf the Web, you will also find free essays for TOEFL. So, you do have a chance to practice and get ready for writing TOEFL essays.

Just be attentive when typing in a search engine the word TOEFL. If your type something like "TOEFEL essay", do not expect to get necessary results.

Anyway, our writers have prepared some recommendations on how to write a perfect TOEFL essay.
Read carefully your essay question and make sure you understand it. Jot down the main ideas that you will include into your paper.
Your TOEFL essay should be structured. An introduction, body paragraphs, and conclusions are obligatory sections.
Do not make too long sentences and vary their structure. Your TOEFL essay should include passive constructions, conditional sentences, questions, etc.
Finally, make sure you follow basic grammar and punctuation rules. Your sentences should have the main subject and a verb, which agree in tense and number.